hello ma little kiddly-winks (woah that sounded patronizing, sorry, it also reminded me of
Jen's
most recent post :)
moving on
so I just watched Harry Potter 7 for the second time, and it was possibly twice as sad (no pun intended) also in the scene where SPOILER ALERT Dobby dies this guy behind me, who was like 60, started crying, I really wanted to give him a hug, it was that sad :( (that in turn made me cry)
and that leads me to the beginning of my story (unintended pun there)
BOOOOOOKS, yes children the magical world of books...
books are possibly the coolest thing ever invented, they are also absolutely timeless, I mean in 20 years are people gonna be like 'yeah remember that movie that came out? wow it was great!' or are they gonna say 'het, remember that really amazing book we read ages ago, I wonder if they still stock it...' personally I think it will be the latter.
But what I think is amazing is that words written on a page can bring real tears to someones eyes, or make someone laugh, or be turned into a movie franchise, or a theme park, it was books that originally sparked all this. We wouldn't have Shakespeare's plays without books, we would hardly know a thing about botany or dinosaurs without books (sort of) I actually cant imagine a WORLD without books (yes I'm looking at you Kindle)
So in honour of my stoic book thoughts I have put together a little list (a list!!! yay) for all of you, consisting of my favourite pieces of literature...
My Sisters Keeper by Jodie Picoult
This book made me cry, and I don't mean like a delicate Bambi tear, but a full on cry...
Pros: It was an amazing read, totally inspiring and insightful :)
Cons: too sad :(
Romeo and Juliet by William Shakespeare
(der)
I love the language and the death scene always makes me cry...(I know, I cry to much *sigh*)
Pros: The language is amazing, and it's a classic piece of literature in itself...it's just Romeo and Juliet that make Romeo and Juliet so amazing...if that makes sense
Cons: It can get quite boring at bits
The Hunger Games Trilogy by Suzanne Collins
No questions asked THE best trilogy of books ever written
Pros: um all of it :D seriously
Cons: There should be MORE books...
The Uglies series by Scott Westerfield
I haven't finished the series yet, because my library is foolish, but its brill so far
Pros: I love how there's all these underlying details to it, and how its a huge conspiracy and all that
Cons: It can drag on a bit at some points, also so far the plot is kind of repetitive
Fill Out This Application and Wait over There .... (forgot sorry)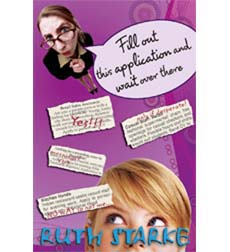 I've read this book like a zillion times and I still love it :)
Pros: It's funny, and I love how the whole book is like a diary, I love how it gives you behind the scenes of THE WORKING WORLD
Cons:(! eeh) she can be kind of irritating sometimes :P
A Little Princess by Frances Hodgson Burnett (I think that's how u spell it)
Once again I have read this a million times, I think I also love it because I was in the play version of this in the city
Pros: It's a classic, and I love how Sara speaks, it also has a happy ending
Cons:I honestly don't know
Ballet Shoes by...?
I just read this and I loved it :)
Pros:I love theatre and stuff like that, and it talks about that all the time (and the Titanic is in there!!!!)
Cons: It can be too dramatic
So this is my list of books, there is probably more that I have just forgotten about, and it will probably EXPAAAAND after Christmas (OMG CHRISTMAS HUZZAH)
also while we're talking about the Chrissie times I just wanted to say I got one Christmas present already!!! (look I know it's not Christmas, but whatever) I got the pretty 'heart of the ocean' style necklace off etsy!!! See my friend and I celebrated Christmas a bit early (we couldn't stand the excitement!!) you can see the necklace on
THIS
post :) I loveee it, but it's a bit smaller than I imagine, thanks
Brooke
!!!
So I think this was a pretty big post lol, and OH I also went to LUSH today!!!! I didn't have that much money because i bought a really cool radio, but I spent it all on a lip scrub made form sugar, vanilla and chocolate :D (which is seriously like heaven) I've scrubbed my lips 4 times today, teehee, but my mum has threatened to take it off me if I don't stop because she thinks my lips will fall off...(HINT I HOPE THERE ARE LOTS OF LUSH GOODIES UNDER THE TREE DEAR SANTA MAN)
I also have been struck my much inspiration lately so xpect a few more posts :) and I'm pretty sure I will have a CHRISTMAS post soon (eeeeek I cant wait)
take care everyone, make sure you don't get eaten by a man eating traffic cone....there have been quite a few on the run lately
-C xxx
p.s I also forgot to mention Harry Potter books, but I thought that was a given :)